HAVE QUESTIONS ABOUT TREE REMOVAL? ASK OUR EXPERTS.
When you need tree removal in Waynesboro, VA, count on the team at VTM Arborists. Tree removal is often recommended when you have too many trees lining your property and you want to begin construction, but this may not be the only reason.
Trees do not always survive in harsh weather conditions and even something as simple as placing mulch on the tree's base can cause it to die quickly. When these types of problems occur and the tree cannot be nursed back to health, it needs to be removed.
VTM Arborists is dedicated to providing you with the best tree removal services throughout the local area. Our trained removal experts will quickly and safely remove any tree that you need to have removed.
Call our office today to receive a free estimate for tree removal in Waynesboro, VA.
Reasons for Tree Removal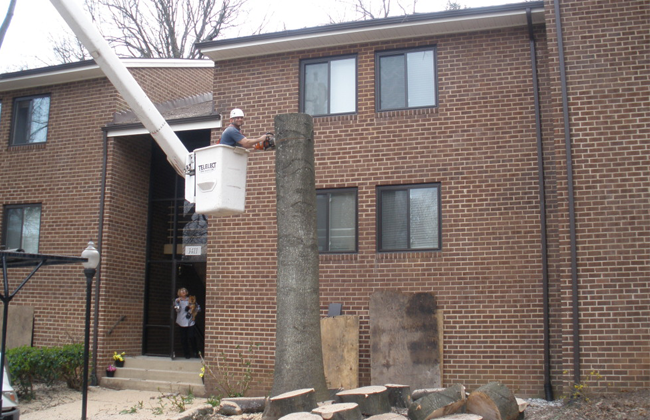 When it comes down to it, there are many reasons why a homeowner may need to have a tree removed from their yard. In fact, the most common reason is because it has died from too much stress or disease. A sick tree will spread disease and death to other trees on the property, thus requiring removal.
Another reason you may need to have a tree removed is because you want to build on your property and there are simply too many trees. When trees are close together and in an area where you want to build, the roots may wrap around pipes and you may not be able to use all of the space you wanted to.
Lastly, you may need to have a tree removed from your yard if it poses a risk to your property or if it is considered an invasive species and brings problems along with it such as branch shedding or insects.
If you are in need of tree removal in Waynesboro, VA, call VTM Arborists now to discuss your removal options and to schedule a consultation.
Tree Removal Pricing
One of the main concerns that you may have when it comes to having your trees removed is how much the job will cost. There are some different factors that go into the price calculation and you may pay more for one tree than the next.
The first pricing consideration is how tall or large the tree is. In fact, a tree that is tall or large in girth will cost more than one that is much smaller because it is harder to remove. When a large tree needs to be removed, it takes more manpower and controlling of the tree to ensure it is safely cut down.
The next pricing consideration is whether or not you want to have additional services including. For example, when you have a tree removed, the stump is left behind, but you can have stump grinding performed, but should expect to pay more for this additional service.
Lastly, the job's price will be dependent on how difficult the job itself is. For instance, if the tree is located in a hard to reach area with multiple cars or structures around, it will cost more than a tree that is out in the open.
To learn more about our tree removal in Waynesboro, VA, contact our office today. We provide free, no obligation estimates for all services.
QUALITY TREE SERVICE IN WAYNESBORO, VA  IS JUST A PHONE CALL AWAY.
Have Your Unwanted Trees Removed Today
If your property is full of unwanted trees that may be stopping you from competing a renovation project, VTM Arborists is ready to work with you. We provide fast, safe, and efficient tree removal in Waynesboro, VA.
Our tree removal experts work quickly to remove trees that have fallen on your property and they will safely cut down and remove any standing trees as well. We want your property to be safe at all times.
Our team has won the ISA Mid-Atlantic climbing competition twice and our team knows how to properly climb a tree, prune it, and remove it. In addition to our tree removal services, our experts offer tree risk assessments, soil amendments, and tree trimming services.
If you are interested in having a tree or two removed from your property, contact VTM Arborists today for a free estimate.