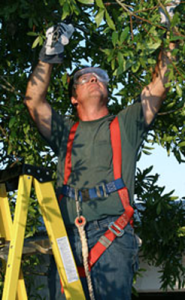 VTM Arborists is a family-owned tree service operating across Northern Virginia and Virginia's Shenandoah Valley. International Society of Arboriculture (ISA) certified Arborist and VTM owner Steve Piccinino leads a team of skilled professionals who provide a broad range of services, including tree removal, tree pruning, stump grinding, cabling, view planning and maintenance, and hazard tree assessment.
Our Philosophy
Beyond the services VTM Arborists delivers expertly, we bring a quarter-century of experience and a passion for trees exceeded only by our desire to satisfy every client. Steve is onsite for each project, personally managing the process to ensure all work is done safely and your investment is protected. "Trust is the highest credential that can be earned by an Arborist. It's gained with each successful project and every satisfied client. That's been the priority for VTM Arborists since we started over 25 years ago." – Steve Piccinino, Owner
Credentials
I.S.A Certified Arborist #MA-4124A and member.
Two time I.S.A. Mid-Atlantic climbing champion.
25 plus years of working experience and knowledge.
Continued training through seminars,workshops and other materials by our standard setting organization: the International Society Of Arboriculture.
Message from the Owner: Steve Piccinino
I started VTM Arborists LLC in 2009 after moving here to the central Virginia area from northern Virginia.
My wife Patty and I, along with our son Nick, settled in our new community in Fishersville in the summer of 2008. Although we are new to the area, we are no strangers to the tree care industry.
Upon completion of high school I worked nine years for 2 reputable tree services. In these first nine years of training and learning, I literally worked from the ground up, starting as a groundsman all the way up to climber, foreman climber & sales.
After learning the ropes of the business, I started Virginia Tree Masters, AKA VTM Arborists Inc. in 1989, located in Fairfax Virginia. We provided quality tree care in northern Virginia for more than 9 years with a checkmark for quality and value in the Washington Consumers Checkbook magezine.
In 1999, VTM Arborists Inc. merged with Audubon Tree Experts and formed Audubon/VTM Arborists Inc. We grew to be Northern Virginia's most tauted tree service by both our clients and employees. Together, our well trained staff of 15 plus served the communities around us with the same excellence in quality tree care as before. We continued to receive Washington Consumers Checkbook Magazines highest marks.
I served as Vice President, operations manager and sales as an I.S.A. Certified arborist with Audubon/VTM Arborists until April of 2007 when Audubon/VTM Arborists was acquired by Natures Trees. My partner has since retired, and I moved to Waynesboro with my family. I also bring an accumulated knowledge and experience to serve our new communities' tree care needs.