HAVE QUESTIONS ABOUT STORM DAMAGE CLEANUP? ASK OUR EXPERTS.
Fallen trees in your yard are dangerous and storm damage cleanup in Waynesboro, VA can protect your property and your family. Any tree that has fallen poses a risk, but there is even a bigger risk when the tree is not completely flat on the ground. If you try to move this partially elevated tree, you may injure yourself or cause more damage to your property.
VTM Arborists specializes in storm damage cleanup and will come out to your property and remove any fallen trees safely and quickly. We offer emergency services for those times that a storm occurs and places your home in immediate danger.
Each one of our team members specializes in both simple and severe storm damage clean up. We have the right equipment and tools for each job and can remove fallen branches, tree debris, and stumps.
Before you panic over a tree blocking your driveway, call VTM Arborists now for a free estimate.
Reasons for Storm Damage Cleanup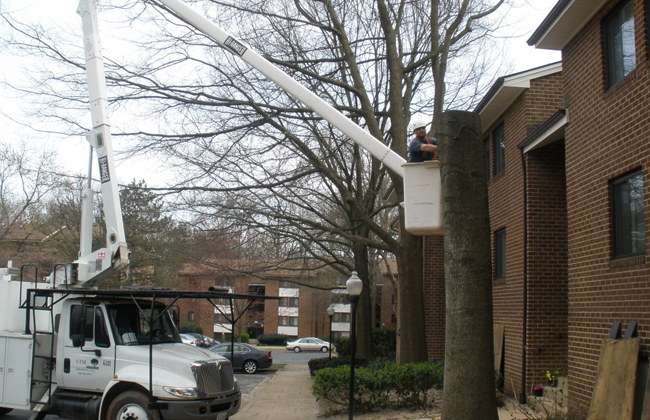 There are many different reasons why you need to have storm damage cleanup in Waynesboro, VA performed. For starters, it is not safe for you to remove a tree from your yard on your own and you may injure yourself. The team at VTM Arborists knows how to remove the trees without causing any injury.
Next, if you allow a broken tree to remain on your property without having it removed, it could finish falling at any time and there is no guarantee that you will not be nearby when it happens.
Lastly, you should have storm damage cleanup performed because our professional team is able to remove all of the debris in one trip and leave your property clear and safe.
If you are interested in our storm damage cleanup services, call our office today to schedule a consultation.
Storm Damage Cleanup Pricing
Storm damage cleanup in Waynesboro, VA is affordable, but the pricing may vary from customer to customer and the exact amount you will pay depends on a few different factors.
One of the first pricing factors is how tall the tree is that has fallen down or that needs to be removed. A taller tree poses more of a risk and it will require more manpower to remove the tree, thus a higher price for the service.
Next, pricing will depend on how soon you need the job performed.
Lastly, you will find that pricing is also dependent on how risky the job is. For instance, if your fallen tree is tangled in a bunch of power lines or is sitting partially inside of your home, the job will cost more than the removal of a tree that is lying on the ground.
If you are in need of emergency storm damage cleanup in Waynesboro, VA, call our office today for a free estimate.
To learn more about our tree removal in Waynesboro, VA, contact our office today. We provide free, no obligation estimates for all services.
QUALITY TREE SERVICE IN WAYNESBORO, VA  IS JUST A PHONE CALL AWAY.
Don't Risk Your Safety after a Storm
Your safety is paramount and we do not want you to try and move any trees that may have fallen on your property. VTM Arborists is your professional storm damage cleanup team and you can rely on us to provide emergency services after any storm.
Each one of our team members is trained in hazardous removal of trees and cleanup of severe storm damage situations. With over 25 years of experience in the field, we know how to properly and safely remove any tree or tree branches from your property.
In addition to our storm damage cleanup, we provide seasonal tree trimming and pruning services, cabling, tree crowning, and tree risk assessments. If you need storm damage cleanup in Waynesboro, VA, call VTM Arborists now to receive your free estimate.