FOR FREE TREE SERVICE ESTIMATES CALL US NOW
If you are looking for quality tree service in Fishersville, VA, look no further than VTM Arborists. We are a family-owned business that is dedicated to customer satisfaction and caring for your trees. Our arborists are all trained and ISA certified.
Fishersville is a city that has roughly 7,400 residents living in it. The city grew in population from 2000 to 2010 and continues to experience growth.
The city has a well-known landmark called the Tinkling Spring Presbyterian Church, which was first found in 1740.
Fishersville receives its fair share of rain, snow, and sunshine, so it is important that your trees receive the care they need all year long. If you are interested in our tree service in Fishersville, VA, call our office today to schedule your free estimate.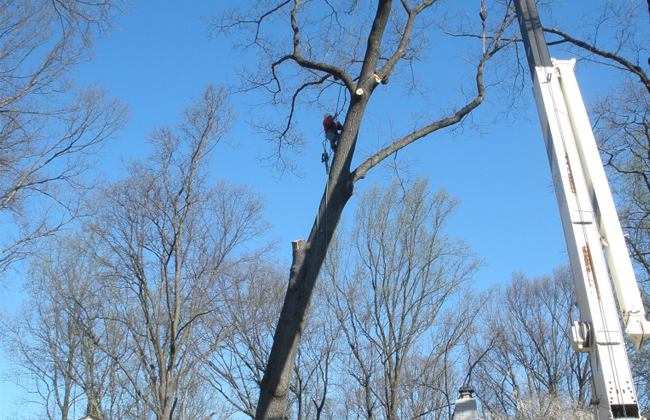 While trees are beautiful and they provide shade to your property, it is necessary for them to be removed. A tree that impedes the growth of other plants, trees, and shrubs on your property may need to be removed.
Trees and plants that have to fight for soil and nutrients will not survive and one will dominate the other. In these instances, your tree will need to be removed by a professional.
The team at VTM Arborists will come out to your property and determine which trees need to be removed and then safely cut them down. Many customers combine our tree removal and stump grinding services into one.
If you have a tree that is overgrown, it's branches may become entangled in your power lines and it may cause your property to lose some of its value. To prevent this from happening, the tree trimming experts at VTM Arborists will shape and trim your tree to the appropriate height and width.
Our experts have all of the proper equipment and tools to get the job done right the first time. Whether you want to have the tree shortened in height or you want us to thin out the overhead leaf coverage, we can do it.
To learn more about our tree trimming services, call our office today to schedule your free estimate or consultation.
Once your tree has been removed from your yard, some of it will still remain until the stump itself is ground or removed. A stump's roots will begin to decay over time and will eventually cause soft spots in the ground, which can lead to injury should you trip or fall into the spot.
Our stump grinding services will remove your stumps below grade and allow you to enjoy a flat surface where you can grow new plants or expand your living area. If you want to learn more about our stump grinding, call us today.
Did you know that if a tree experiences too much stress it will die or become susceptible to disease and pests? At VTM Arborists, our ISA certified arborist will work with you to assess your trees' health and determine if the trees need any special type of treatment.
We offer health services and monitoring to detect any signs of pests and diseases early on and prevent them from happening. To have our tree service in Fishersville, VA performed on your property, call our office today to schedule a free estimate.
When storms occur, the wind and rain can be too much for some trees to handle, especially trees that have diseases or have been damaged before. If any of your trees have fallen down or large branches are scattered around your yard, call VTM Arborists.
We provide fast, efficient, and emergency storm damage cleanup to ensure that your property is safe at all times. Our experts have the skills and tools needed to safely remove any size tree or branch.
QUALITY TREE SERVICE IN FISHERSVILLE, VA IS JUST A PHONE CALL AWAY.
We Provide FREE Tree Service Estimates
If you are interested in tree service in Fishersville, VA, call our office today to schedule a free estimate for service. Our technicians are qualified and have the knowledge needed to diagnose any problems with your trees.
Our team has won the ISA Mid-Atlantic climbing championship twice. All of our climbers have the tools and skills needed to ensure your trees are trimmed properly. In addition to our 25 years of experience, we continue to attend seminars and training courses to further our knowledge in the field.
We want you to enjoy the trees on your property and our team can help you provide the right tree care, no matter the season. Whether you need to have your soil inspected, you are in need of a deep fertilization or you want to have girdling roots removed, we are the right team for the job.
Call us today to schedule your free service estimate.